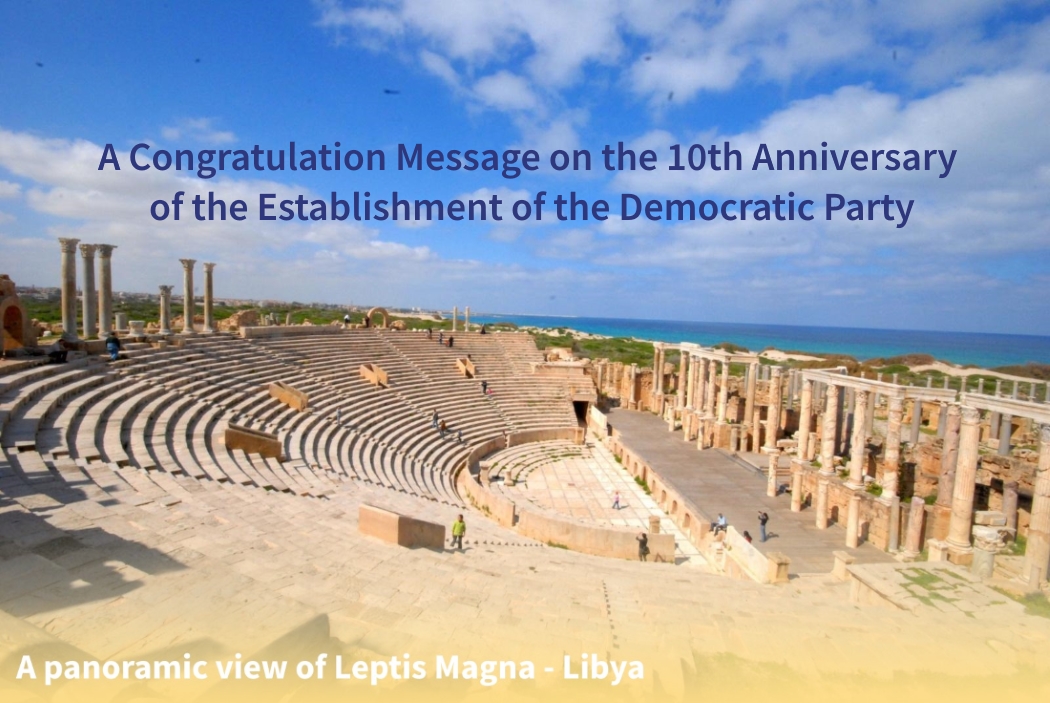 The 14th of July 2021, is the 10th anniversary of the establishment of the Democratic Party of Libya. On this happy occasion I would like to congratulate all the members and supporters of the party, as well as to reiterate that the party will always be true to its main objective of establishing a secular, democratic and modern Libya that has no place for extremism and demagogy.
The Democratic Party was the first Libyan political party to be established following the outbreak of the Glorious Revolution of the 17th of February.
It is rather heart-warming that the Democratic Party has succeeded in the first ten years of its history to become the foremost voice of secularism in Libya. Indeed, the party has successfully set-in place the ideological foundations for a modernist and democratic Libya. This comes despite the reactionary forces which want to return Libya to military dictatorship and those that want to take Her down the path of fundamentalism and extremism.
Evidently, The Democratic Party advocates the separation of mosque and state. However, most of our members of are committed Muslims, yet some of the founders of the party are Libyans of the Jewish faith who were unjustly expelled from their beloved country in the 1960s.
Undoubtedly, the road to democracy and freedom is a long one, and that there are difficult challenges ahead, but we are confident that we will be triumphant at the end. It is truly encouraging that most Libyans are nowadays adamant that democracy is the only way forward.
Unlike many other Libyan political parties, the Democratic Party does not give promises of jobs, financial privileges, or scholarships to those who want to join it. Our membership is purely ideological. This is because we are staunch defender of our political independence. Indeed, the party has never received any funding from any government, institution, or an individual. Evidently, the Democratic Party does not have a bank account to date.
Transparency is essential for the success of democracy. It is therefore imperative that all Libyan political parties come clean and declare their sources of income for all Libyans to see. Sadly, the Libyan political scene is very much marred by dirty money; it is currently an uneven playing field.
Thanks be to God, the Democratic Party is growing from strength to strength, almost by the day, because of the clarity of its political vision and its unwavering commitment to freedom and democracy. Our enemies and the counter-revolution will not succeed to derail us.
The Democratic Party welcomes all those who would like to participate in our debates at our facebook page:
Libya Freedom and Democracy Campaign https://facebook.com/groups/169834966398397?view=announcements&ref=m_notif&notif_t=group_activity
The Libyan Freedom and Democracy Campaign is a civil society organisation which gave birth to the Democratic Party. Unfortunately, our original website and some other facebook pages associated with the Party have been pirated by the counter-revolution and the enemies of democracy.
Long Live Libya
Ahmed Shebani
President of the Democratic Party